Alan R. Babbitt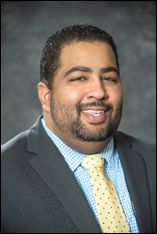 Alan R Babbitt Jr., was born in Stamford CT, and raised in the Northern New Jersey area. After attending High School in Union, NJ, he earned his Bachelor of Arts in Criminal Justice from Kean University in Union, NJ. During this time Alan served in the New Jersey Army National Guard and was Honorably discharged after 4 years. After which Alan obtained his Masterís degree in Criminal Justice from American Military University in 2013.

Alan received his Juris Doctor from Florida Coastal School of Law, in Jacksonville Florida in 2016. During his time there Alan served as the President of the James Weldon Johnson Chapter of the National Black Law Students. Alan also graduated with Pro-Bono Honors, due to the many hours of Clinic and Public Service completed during his enrollment.

Alan went on to further his legal education by obtaining his Master of Laws degree in 2017, by enrolling in the Insurance Law LLM program at the University of Connecticut School of Law in Hartford CT. During his time here Alan participated in the schools chapter of the National Black Law Students Association, while also competing with the schools National Negotiation and Dispute Resolute team. Before joining Heard and Smith, Alan was employed with the Social Security Administration as an Attorney Advisor/Decision Writer.