Hector Ramirez-Rivera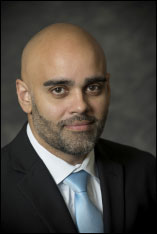 Hector A. Ramirez-Rivera was born and raised in Caguas, Puerto Rico. He received his Bachelor of Science in Industrial Microbiology from the University of Puerto Rico at Mayagñez in 2001. During his first two summers in college, Hector participated as a young missionary working in rural communities at the Dominican Republic. He was a member of the Beta Beta Beta National Biological Honor Society and vice-president of the Microbiology Society.
Due to his interest in helping others in a more proactive fashion, Hector attended the University of Puerto Rico School of Law and completed a Juris Doctor in 2004. While studying law, Hector completed a summer internship as a clerk in the Puerto Rico's First Instance Court, worked as a student attorney in the Environmental Law Clinic, and participated as a student professor in a law school's initiative to increase representation of law students from low-income communities.
Hector is a member of the Puerto Rico Bar, Texas Bar and the National Organization of Social Security Claimant's Representatives.