Mark Laudisio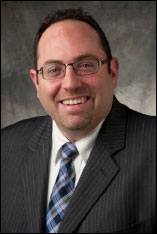 Mark Laudisio was born and raised in Buffalo, New York where he currently lives. He attended Bishop Timon High School and earned his undergraduate degree with honors from Canisius College while working full-time at a book store. At Canisius College, Mark obtained his B.A., majoring in Political Science with a minor in Sociology and also earned a certification in Criminal Justice.
Mark attended Albany Law School and earned his Juris Doctorate in May of 1995. While studying at Albany Law School, he spent his 2nd and 3rd year working at the law school's AIDS Law Clinic helping clients afflicted with HIV/AIDS file for and obtain Social Security Disability benefits as well as assisting them with other legal matters related to their health status. He took the New York State Bar Exam in July of 1995, passed, and was inducted into the New York State Bar in November of 1995.
Prior to joining Heard & Smith, Mark practiced Social Security Disability law for over sixteen years with another law firm, where he represented claimants in over 3,000 hearings mostly in upstate New York.
Mark is a member of the New York State Bar Association, the Erie County Bar Association, and the National Organization of Social Security Claimant's Representatives. Mark is a die hard Buffalo Bills fan and season ticket holder.